Woman In Metaphor
00744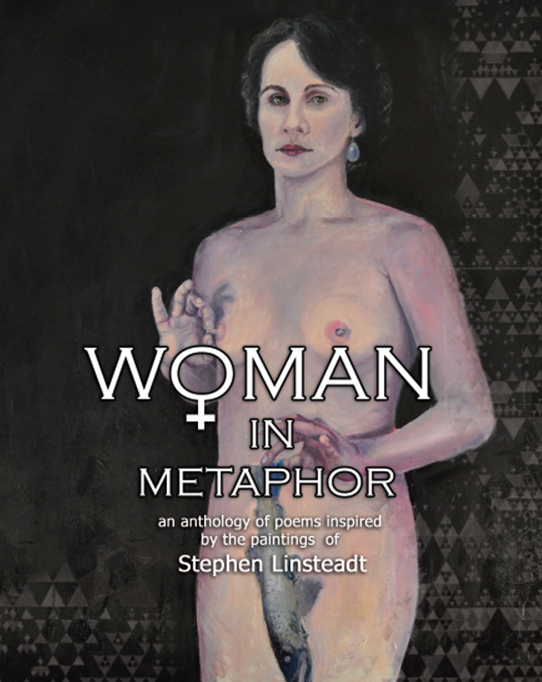 Woman in Metaphor
By Maria Elena B. Mahler

Twenty-seven poets from around the world share their vision of the feminine spirit, inspired by the paintings of Stephen Linsteadt.
Editor, Maria Elena B. Mahler, collected twenty-seven poems from twenty-seven accomplished, published, and award winning poets from different parts of the world. She invited them to write a poem based on one of Stephen Linsteadt's paintings; paintings he created over the last thirty-five years.
The book contains an introduction and essay by Lois P. Jones, host of Pacifica Radio's "Poet's Café" (KPFK, Los Angeles 90.7 fm), and co-producer of the Moonday poetry reading series in Santa Monica. Lois is a four-time Pushcart nominee, and the winner of the 2012 Tiferet Poetry Prize and the 2012 Liakoura Prize. About this collection of art and poetry, Lois explains:
"When Stephen Linsteadt embarked on his metaphoric journey, he was striving toward a deeper sense of conception. If art implies a desire for the sacred it is, as Eckhart Tolle suggests, a portal or an access point which ultimately leads you to yourself. It is this portal that bids we enter, freely and without agenda. Each of the twenty-seven writers in Woman in Metaphor, all of various ages and beliefs – practiced poets or sensitive observer, transversed this threshold, returning with their own compelling visions."
Book Review by Ed Bennett