Star of Lakshmi pendant (lapis lazuli) and amethyst necklace by Scalar Heart Connection
680491185235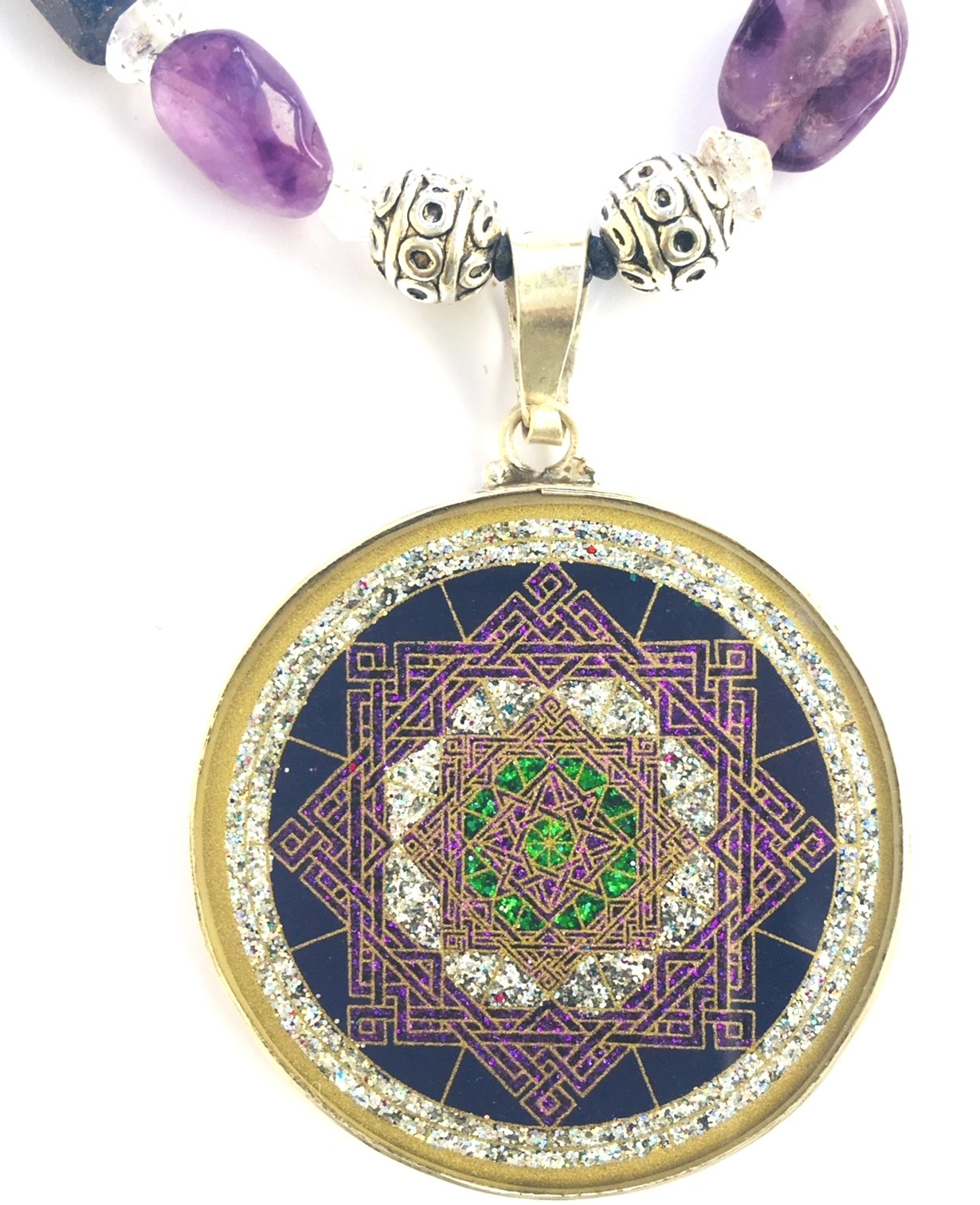 Star of Lakshmi Sacred Geometry Necklace in lapis lazuli and amethyst in sterling silver by Scalar Heart Connection
Scalar Heart Connection functional healing jewelry focuses in the combination of healing stones, numerology and vibration of the geometry or shape. Each piece is handcrafted with love.
Lapis lazuli stone embedded in sterling silver is a deep dark blue, and as a healing stone can help in opening the 6th chakra during meditation, and assist one during dreamtime work. Supports in balancing the mind to stay focused and have a clear vision.
Amethyst is also a stone that supports the brow chakra and pineal gland as well. Is one of the most spiritual stone vibrations found in the land in the south of Brazil. Amethyst is a meditative and calming stone which works in the emotional, spiritual, and physical planes to promote calm, balance, and peace. It is also used to eliminate impatience. Emotionally, amethyst is used in crystal healing to help heal personal losses and grief, bringing one gently past. Amethyst has a gently sedative energy that can promote peacefulness, happiness, and contentment.
Herkirmer quartz crystals are also known as "diamonds". These powerful crystals are naturally double pointed. They can enhance psychic visions and clairvoyance- two qualities from the Brow Chakra.
The sacred geometry shape on the pendant is the Star of Lakshmi, also known as an Octagram, and it is formed by two overlapping squares. In Hindi this symbol represents Lakshmi's eight forms of wealth and prosperity. When called upon, Lakshmi opens the floodgates of heaven to help us meet our heart's and budget's needs.
Each piece is handmade. These aesthetically pleasing stone necklace works as functional healing jewelry with semi-precious stones arranged into sacred geometry mandala designs and symbols set in sterling silver.
Each piece is uniquely made and the necklace or colors in the pendant and may vary.
Star of Lakshmi pendant 1 1/2" Lapis Lazuli
Lapis lazuli & amethyst necklace 24"
Sterling silver clasp