Sahasrara Sacred Geometry MINI Pendant (lapis lazuli) with peridot necklace by Scalar Heart Connection
00685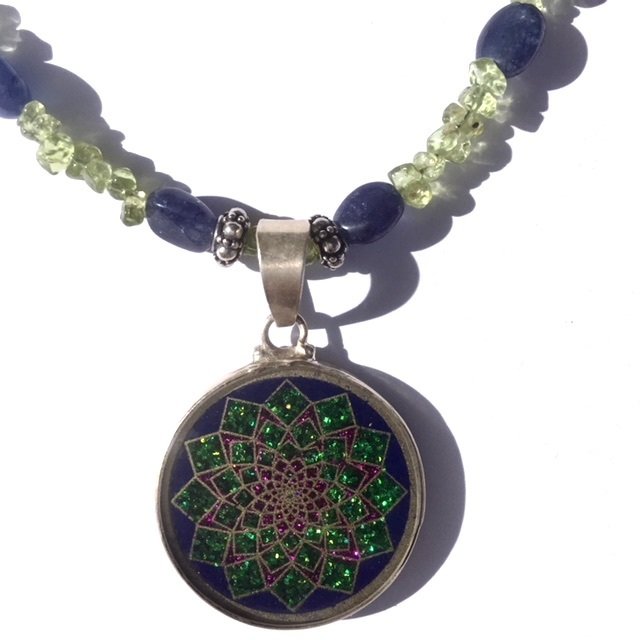 Sahasrara Sacred Geometry MINI Pendant (lapis lazuli) with peridot necklace and sterling silver clasp.
Scalar Heart Connection's Sacred Geometry Jewelry focuses in the combination of healing stones in the creation of each piece and are handcrafted with love.
The Sahasrara, which represents the 7th or Crown Chakra, is referred to as the "lotus of a thousand petals". It is the epicenter of the soul and the essence of one's complete being. The seventh chakra is responsible for the integration of all the others, melding them with their own individual qualities and is often referred to as the Promised Land where complete and utter freedom and truth are obtained.
Lapis lazuli stone embedded in sterling silver is a deep dark blue, and as a healing stone can help in opening the 6th chakra during meditation, and assist one during dreamtime work. Supports in balancing the mind to stay focused and have a clear vision.

Peridot beads contain a great amount of iron ions, therefore its color green. Peridot has also known as Olivine or Chrysolite. Most Peridot contains magnesium- rich Forsterite. Peridot has a high vibration for the heart chakra carrying positive energy and balancing emotional upsets.

The sacred geometry pendants honors symbols from across the world. They are handmade jewelry. These aesthetically pleasing round medallions work as functional healing jewelry with semi-precious stones arranged into sacred geometry mandala designs and symbols set in sterling silver.
Sahasrara (lapis lazuli) pendant 1"
Peridot necklace 19"
Sterling Silver Clasp
UPC:712395266953
Brand:
Scalar Heart Collection