Metatron's Cube in Flower of Life (red coral) with sodalite necklace by Scalar Heart Connection
00631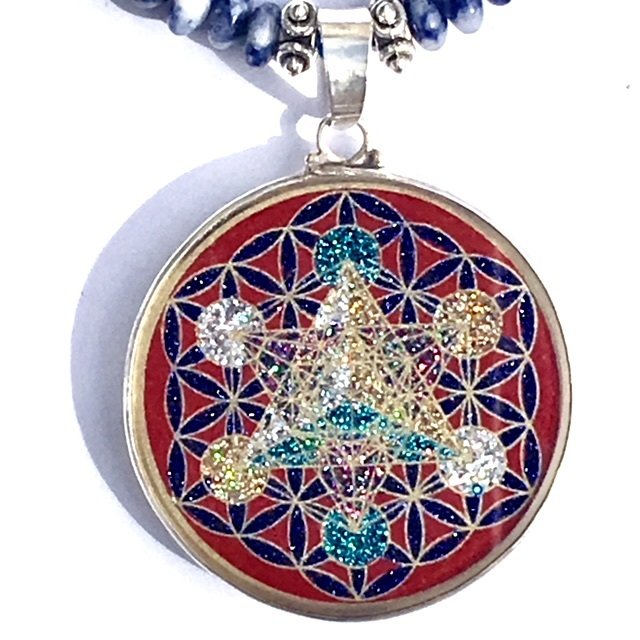 Metatron's Cube in Flower of Life Sacred Geometry pendant (red coral) with sodalite necklace by Scalar Heart Connection
Scalar Heart Connection's sacred geometry jewelry focuses in the combination of healing stones in the creation of each piece, handcrafted with love.
Metatron's cube is a symbol and a tool for personal transformation. If you listen deeply with the ear within the chamber of your heart y can too can connect to the Infinite. Metatron is best known for his 'cube' which is derived from the Fruit of Life, which are thirteen circles concealed in the ancient Flower of Life. When superimposed on top of another Flower of Life it reinforces our Unity Consciousness...the Sacred Oneness of all Creation. Metatron's cube in this design of Flower of Life contains all the platonic solids that are contained in all geometric symbols for the unity of the finite with the infinite.
The red bamboo coral supports the base or first or base chakra that helps to bring balance or feel connection to our tribe, connection to Mother Earth, and can help to strengthen our sense of survival and security.
Sodalite is a combination of blue and white colors and this stone is associated with the 5th and 6th chakra. In the Zodiac, Sodalite is the stone for Sagittarius for this horseman speaks of idealism and truth. Sodalite brings inner peace, metaphysical powers, strengthens the intuition and clarity.

The sacred geometry pendants honors symbols from across the world. They are handmade jewelry from an artisan family in India. These aesthetically pleasing round medallions work as functional healing jewelry with semi-precious stones arranged into sacred geometry mandala designs and symbols set in sterling silver.
Metatron's Cube (red coral) pendant 1 5/8"
Sodalite necklace 19"
Sterling Silver Clasp
UPC:712395266953
Brand:
Scalar Heart Collection