Metatron's Cube Sacred Geometry MINI pendant (malachite) and sterling silver necklace by Scalar Heart Connection
00714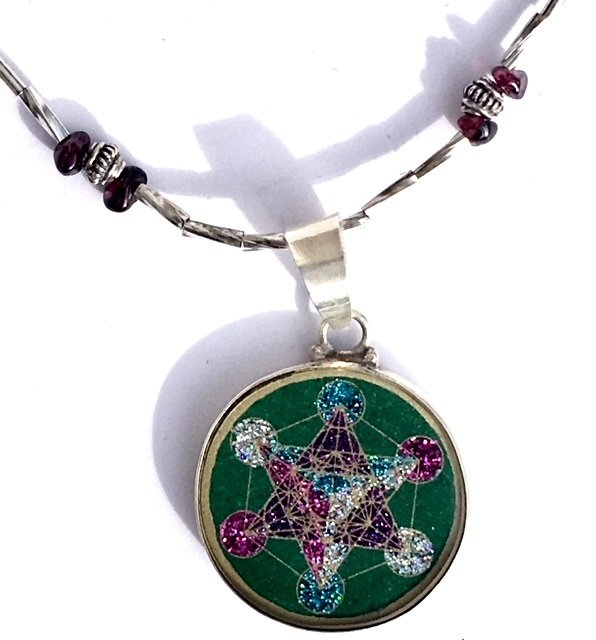 Metatron's Cube Sacred Geometry MINI pendant (malachite) with sterling silver necklace by Scalar Heart Connection
Scalar Heart Connection's Sacred Geometry Jewelry focuses in the combination of healing stones in the creation of each piece, handcrafted with love for the highest good for the one who likes to benefit from these unique sacred geometry necklaces.
Metatron's cube is a symbol and a tool for personal transformation. If you listen deeply with the ear within the chamber of your heart y can too can connect to the Infinite. Metatron is best known for his 'cube' which is derived from the Fruit of Life, which are thirteen circles concealed in the ancient Flower of Life.
Malachite is an excellent stone for the Heart chakra. It is also a powerful stone to stimulate psychic vision and helps you to have good concentration. Malachite can assist you in realizing anger and depression, while restoring a sense of peacefulness. It assist you in finding your heart's calling and helps you clear away negative blocks allowing you to blossom into all you can be.
The sacred geometry pendants honors symbols from across the world. They are handmade jewelry. These aesthetically pleasing necklaces work as functional healing jewelry with semi-precious stones arranged into sacred geometry mandala designs and symbols set in sterling silver.
Metatron's Cube MINI Pendant 1"
Green malachite in sterling silver
Sterling Silver necklace 19"