Fruit of Life Pendant (malachite) and Malaysian jade necklace by Scalar Heart Connection
00687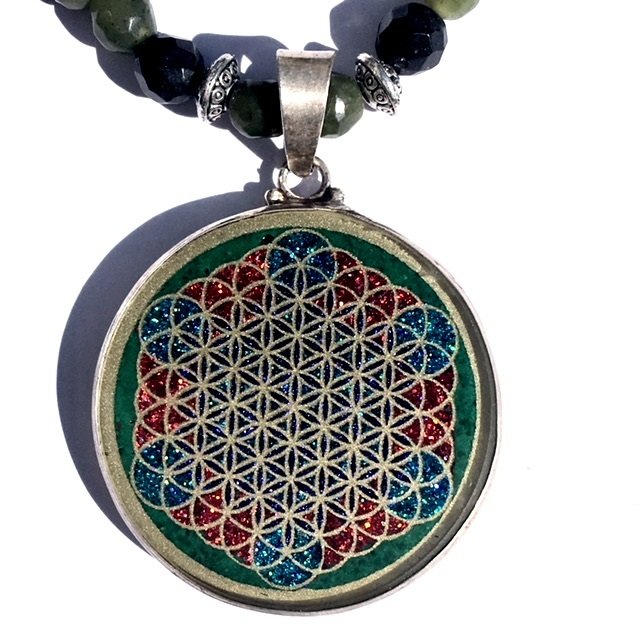 Fruit of Life pendant (malachite) and Malaysian jade necklace with sterling silver clasp by Scalar Heart Connection

Scalar Heart Connection's Sacred Jewelry focuses in the combination of healing stones in the creation of each piece and are handcrafted with love.
The Fruit of Life, composed of 13 circles taken from the Flower of Life, it is said to be the blueprint of the Universe, containing the basis for the design of every atom, molecular structure, life form and everything in existence. It contains the geometric basis for the delineation of Metatron's Cube, which brings forth the platonic solids.
Malachite is an excellent stone for the Heart chakra. It is also a powerful stone to stimulate psychic vision and helps you to have good concentration. Malachite can assist you in realizing anger and depression, while restoring a sense of peacefulness. It assist you in finding your heart's calling and helps you clear away negative blocks allowing you to blossom into all you can be.

Jade comes in many colors and it's known from ancient times for its healing, nobility, and powers. Dark green jade evokes peacefulness, calmness, increasing consciousness to a higher level. Jade is green like the heart chakra and it is associated with the planet Neptune (water signs).

The sacred geometry pendants honors symbols from across the world. They are handmade jewelry. These aesthetically pleasing necklaces work as functional healing jewelry with semi-precious stones arranged into sacred geometry mandala designs and symbols set in sterling silver.
Fruit of Life Sacred Geometry Pendant 1 1/2"
Malaysian jade necklace 21"
UPC:712395266953
Brand:
Scalar Heart Collection