Flower of Life (malachite) Sacred Geometry Mini Pendant with green peridot necklace by Scalar Heart Connection
00684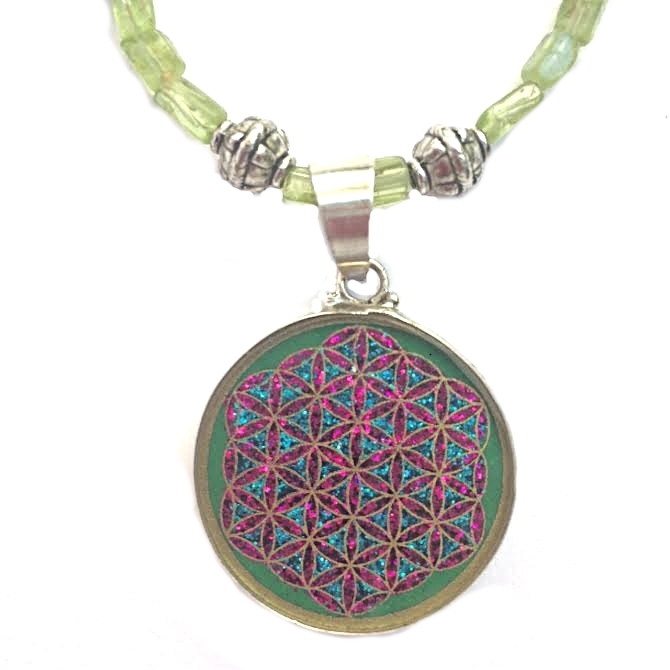 Flower of Life (malachite) Mini Pendant in sterling silver with green peridot beads Necklace by Scalar Heart Connection
Scalar Heart Connection of Sacred Jewelry focuses in the combination of healing stones in the creation of each piece, handcrafted with love.
The Flower of Life symbol in this mini sacred geometry pendant is considered to be sacred among many cultures, both ancient and modern. Within this symbol can be found all the building blocks of the universe (Platonic Solids). The Flower of Life can be used as a metaphor to illustrate the connectedness of all life and the one spirit within the universe.
Malachite can assist you in realizing anger and depression, while restoring a sense of peacefulness. It assist you in finding your heart's calling and helps you clear away negative blocks allowing you to blossom into all you can be.

Peridot beads contain a great amount of iron ions, therefore its color green. Peridot has also known as Olivine or Chrysolite. Most Peridot contains magnesium- rich Forsterite. Peridot has a high vibration for the heart chakra carrying positive energy and balancing emotional upsets.
The sacred geometry pendants honors symbols from across the world. They are handmade jewelry. These aesthetically pleasing necklaces work as functional healing jewelry with semi-precious stones arranged into sacred geometry mandala designs and symbols set in sterling silver.
Flower of Life (sterling silver) 1"
Peridot beaded necklace 19"
Sterling Silver Clasp
UPC:712395266953
Brand:
Scalar Heart Collection